-Our two sailing cruises in Corsica in August were a success ; Sarra sent us this message 'I spent a very good time, the skipper Christian very efficient and cool... Thanks for all, Sarra'
Thanks for answering, Sarra, no more questions...
-The sailing cruise of Arnaud that left from Marmaris to sail Turkey ended in the Greek islands on this big catamaran Belize 43. A good combination of Orient and Occident, navigation at night, full speed accelerations leeward of Tilos, motorbikes and car rent at Nisyros, and meetings late at night in the trampoline at the front of the yacht.... Arnaud: 'I have been impressed by the level of professionalism of PASSION SAILING as the base in Turkey. It will be a pleasure to do it again with such partners.'
-Then 2 good friends organized their cruises in the same time but not in the same area. One in the Greek Peloponese with me as the skipper, the other in the Greek Dodecanese with Francois. Both have great separate souvenirs from their experience. Suzanne in the Dodécanèse: Here we are, far from the Aegean sea and 'plunged' into the daily routine, that do not help us thinking of the wonderful souvenirs of these holidays. Not only Poseidon deserves it, but also the choice of our captain, his passion for archeology, and his patience with all neophytes on board. We hope discovering other wonders around the Datcha peninsula, and even more to the other side of the invisible border...
-The Peloponese is not well known from the sailor. -We met there very friendly people, villages and even cities like 40 years ago, we saw very impressive summits above the sea and the most interesting archeological sights. The shelters are not too far from each other for the sailor and a one-way Athens-Kalamata in 10 days downwind is ideal. . The turquoise waters pictures are shot at Elafonisi north of Kithira. Tahiti beach !! so called by the crew.
-Going to the end of the season (the best period here) Bruno in the Cyclades on this new SUN ODYSSEY 34,2 tells us:
Very well equipped yacht, welcome impeccable; the weather pushed us to modify our itinerary because we have been staying at Kea for three days waiting for the wind up to 27 knots to slow down. Then we sailed to the Saronic gulf and we especially loved Hydra. We just regret that sailing only 10 days out of 14 was not much. But Aeolos decided. The maneuver back to the quay was not obvious at the beginning but I became good at it. I have been very satisfied by all information you provided to me.
-
André in the Ionian sea
'Here we are, back at home. Everything was generally fine, apart the outboard engine not friendly. We often had to use the oars. But this is notthat important; we sail for eight times and there is also a problem somewhere. The most important is that everything goes well and the weather every day between 2 and 3 Beaufort as we had.'
- Jean had some good time although he faced some technical problems at the beginning. The yacht was not available at time of embarkation because the previous clients broke a vital part . That can happen and it is wise to have booked with a fleet that has resources in this case. Jean had a choice for various replacement yachts and chosed this Bavaria 40 for the beginning of the cruise. The Grand Soleil 37 went delivered repaired with a skipper to an island of his choice; Milos.
was the one.
- Ramon and his family came from Spain as well as Tia, but at least they gave some news to us. They discovered that sailing the center Cyclades is not that hard as soon as you have a real good yacht, even if it is not up to date (Gib Sea 422) and starting from the center of the archipelago (Paros) avoids a long trip back to Athens mainly against the trade winds. Good advice.
- We won't forget the happy 'Savoyards' with Frederic on Franck's yacht in Turkey : 'We loved our holidays. All went well with Franck and we are ready to do it again. Really gorgeous!'
- Alain that had some small problems on his small yacht at Lefkas : ' Apart from these small problems the islands are marvelous, the people friendly. We sailed up to Lefkas, then Ithaka, Céphalonia, Zante and the Strofades, two magic islands . The weather has been perfect . I think hiring again in Greece, but off the Meltemi period.
- Philippe on his Sun Odyssey in Turkey, Bernard and Laurence that follow us for may years and sailed Turkey with Jean and Helen ,
- Joel, 2 weeks in Croatia on his racing Elan 31 ',
Good sailing, good holidays.
- François and family on this big catamaran between Greece and Turkey that we met inMandraki in Rhodes for the custom check-in.
- Pierre et Christel discovered sailing with Jean and Hellen. A bigger and more equipped sail boat next time they said. You have to try once to know exactly the best for you. It is our job to find the nearest choice with a minimum of risk. This time was a bit too low, but it was the first time and the budget decided. 'Briefly, we have been enchanted by our holidays and navigation. We will do it again. The previous notes will help us to tell our preferences for the next sailing trips.'
That is all for this time. There are many others who didn't send anything. No news good news. As a conclusion, we sent 3 500 messages this year to organize your sailing trips. that shows how we care about each detail of your cruise because we have far less clients every year!
François, Servanne and myself give you an appointment in the most beautiful areas in the world
together with the skippers/guides available: Anne-Marie, Esther, Yann ('the other Yann'), Ralf, Giorgio, Thierry, Max, Bertrand...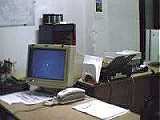 PASSION Sailing Cruises Organisation
Year 2003 sailing report