Dear friends,
Here is your annual report of the nautical season of PASSION SAILING CRUISES 2004.
After some worries about the Olympic games in Greece that are somewhat competitors to the traditional holidaymakers, the season came not bad for us. The Aegean sea was quite empty of yachts though, which gave us fantastic exclusive cruises. We spent sometimes days without a sail around and never had any problem finding a place in small Greek harbors, even for our catamarans. Turkey was a bit more successful , especially at the end of the season (October/November that are wonderful). Croatia, Corsica, Italy and the Caribbean started well for a first official year with several cruises in each area.
But leave our friends tell their stories now:
-The first yacht to leave the harbor in 2004 was Emmanuel 's from Corsica on april 10th. He sent us this comment: : 'Nour cruise came fine, the weather changing but always allowing sailing. We finally did the cruise around Corsica. The Bavaria 50' not available at the last moment , we have been given hopefully a very good and new Gib-Sea 51. Excellent welcome at Portoferraio.'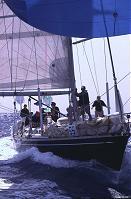 (CLICK ON IMAGES TO ENLARGE)
-Second cruise: at the other side of the hemisphere, Aymeric and his crew asked us to organize their racing week at Antigua. A catamaran was rent on the side for lodging, and a Sun Fast regatta for the race. Both have been brought from Guadeloupe by Delphine and another skipper. Aymeric comments at the end of the week:
'On the name of the whole crew I wish to thank you for the week you prepared for us. We particularly appreciate the professionalism of your organization, your devotion to answer all our questions, the welcome at Antigua and Pascal's assistance...We spent a fantastic week although our results were so - so, we will remember this stay.
Hope that we will use your services again for new adventures, we wish you all the success that you deserve'
We didn't receive the pictures this year but I still have our own collection of Antigua race week 2001 with John...
-Then the full season started with Vladimir who came from Moscow for Turkey with a very dynamic crew. We eventually met them at Rhodes, because we had been working so much together obtaining VISAS for Europe that they felt obliged to use them.
-After Pierre who completed his knowledge of the Aegean sea on this Oceanis 400 from Athens, we had this trip with 2 yachts together; a French crew on this Bavaria 47' with Gauthier, et a Canadian crew on this 41' with Serge, who was keen of some company to assist him during his cruise as a skipper. We had a great time visiting the sights, renting motorbikes, spending nights listening to Canadian songs, and sailing in good winds.
Sailing with more than one yacht, even if the crews do not know each other is terribly exciting as soon as there is no obligation to be together at night. The vision of other sailing yachts at sea adds to the excitement. And having fun together at night, speaking about the cruise of the day is a possibility that many on board enjoyed...
Apart from that we celebrate a wedding on board, had a fantastic time discovering the inside of the islands. Serge, back to Canada, I imagine him sitting by the fireplace: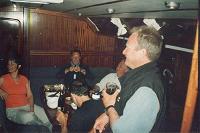 ' 'We just met all together yesterday and after this short while after the cruise I could appreciate the way each one lived this fantastic experience . While reviewing the sailing cruise I feel more the importance and the quality of your management. Your experience and preview have been very useful to me. Thank you to have helped us for the success of this first and unforgettable experience at sea.'
-Then this letter from Fred back from a sailing cruise in the Cyclades on a 10 metres yacht. The reasonably small size of the yacht was not a handicap to sail the central Aegean easily from Paros.
' Our cruise in the Cyclades was very satisfactory, good welcome, good state of the yacht apart from the weakness of the battery, quite usual on yacht of this size. Wonderful sailing even though the wind can be quite strong there. To conclude: nothing bad to notice.
-The full summer was well settled when Karl and his family passed by our office in Rhodes and left the islands with me on this very good Ovni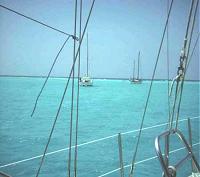 (a sail boat) to cruise between Greece and Turkey. In the same time Gérard was surfing on the tropical waves on this catamaran Athena 38 from Martinique to the magic Grenadines. Wonderful navigations between Moustique, Bequia, Cannouan... and many thanks to the skipper Philippe : 'Just a word to congratulate you for the organization of the cruise, it was all perfect. The Athena 38 was brand new, the skipper Philippe was very cool and competent. The staff at the base welcoming and easy going. no complain about these colors, reefs, regular trade winds, the carpaccio, fresh fish and pinacoladas..... So many good souvenirs... so we will come back and see you soon!' No picture back but we still have resources at PASSION since we sail there (since 1981). The pity is that we receive many pictures AFTER this letter!! I should think to do another complete letter ...
-Our yachts crossed each other many times, like Nathalie's and Karine's at Santorini (a strong unexpected south wind pushed us to moor together at Thirasia facing Thira, well protected in the volcano). Here are the pictures from Karine's catamaran. They show that the Greek waters are as green as the Caribbean lagoons.
-August:: Charlotte and her family came back to the Dodecanese and their captain Giorgio. Many people like to come back to magic places
and meet again the friends on places they enjoyed once.
-In the same time, a very sympathetic crew, Andrew, Katie and the children sailed the Dodecanese archipelago on this 41' monohull. We had the pleasure to meet them in Rhodes before the cruise. We deeply hope sailing with them again.
Then François was led in Croatia by Branko, a very good reputation skipper in the area, but quite poor in French. One cannot have everything... a very positive cruise anyway. 'We will do it again, but in Turkey next year'. Francois said.
Jean-Marc, that we know well for several years decided to have THEIR cruise as a Honeymoon with Lorenza, from Sardinia, Portisco. We are sure that he sailed his bride well, unless she did it because we know that she is a pretty good sailor...
Marc visiting Rhodes did a quite similar trip on a 38', but a south gale stopped both of them at Ladico bay, south of Mandraki in Rhodes. After a mobile telephone call we decided to drop 2 anchors in the north west part of the bay. It worked out and they could sleep well for a while. I am stand-by on my mobile for this kind of request when one has doubts about a port, a bay or the weather , I am able to help, being on Internet and sailing in the area for 20 years. This is one other advantage of setting a cruise with PASSION SAILING.