Dear Friends,
here is our colorful report of the great year 2005!
This year has been characterized by a increase of about 50% of our sailing cruises all over the world.
We kept a direct, friendly and personal contact with all our customers though; this will always be the priority at PASSION SAILING.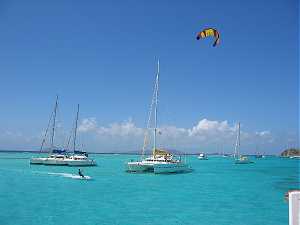 The first miles took place in the West Indies; we have the best reports from the Santa Lucia, Cannouan, Mustique etc. Next cruise: a LAGOON 470 10 days in the grenadines in January 2006.
Then for Easter, Pierre opened the season in the Med from Palermo, Sicily . Then Yves, Claudine et the kids sail the Cyclades on this BAVARIA 44 ; a discovery out of the high season.
Comments: We are very satisfied; the information you gave corresponded to the reality. Thanks to our skipper Francois for his patience and professionalism.
April: after William on this catamaran fr4om Athens, Vladimir from Moscow left Rhodes for a sailing cruise towards Kos on these two new BAVARIA 40'. He says: 'This is to thank you for efforts, time and patience when dealing with our two crews. We really appreciate your friendly assistance and advices. The very fact of having a professional on whom one can rely is very important for such not excessively experienced sailors as we are', --- Vladimir XXX Moscow Russia ----
Thanks
June started with Monique and Christian in Croatia on this LAGOON 380; Captain Francois was still there although it took place at 2000 km from Greece.
Palermo and Sicily in June: comments (French) :
'Nous avons passé une semaine très agréable sur le Bavaria 46H. Le skipper était formidable, le bateau a bien navigué malgré le peu de vent que nous avons eu. Cette expérience a enchanté tout le groupe et nous espérons la reconduire bientôt, vers d'autres îles... Merci pour votre prestation, à bientôt pour d'autres croisières, Cordialement, Hervé'
Then came Cathy and her friends; a company from various areas in the world like Arizona, Oregon, Australia, New York, england , France if you count the crew… this 'macedonia' made a wonderful ambiance. We must say that Cathy prepared the trip long enough in advance. nothing unexpected could happend... The LAGOON 440 was great and very comfortable sailing the Dodecanese archipelago: air condition, generator, ice maker etc. apart this bad roof edge ... the crew will understand...
I remember then this meeting between two PASSION SAILING yachts: a SUN ODYSSEY 52 and a SUN ODYSSEY 54 DS at Sounion. It was good to meet people with who we had only internet communication. On the spot they had a good time with skipper Bertrand.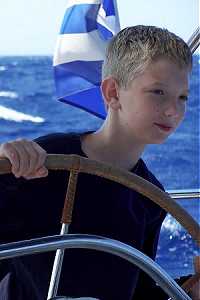 July; full season and first comments of Laurent at Skiathos, Sporades with Bertrand again who had just time to fligh from Athens.
'Superbes vacances! Nous avons tout particulièrement apprécie le fait de mouiller dans des baies isolées, les découvertes d'endroits superbes et les rencontres insolites avec dauphins et espadons. Le bateau était parfait bien équipe petit bémol pour les draps et les serviettes qui n'étaient pas de la première fraîcheur. Quant a Bertrand nous avons grâce a lui passe de magnifiques moments. Son professionnalisme constant (accueil au ferry!), sa compagnie, son sens pratique et ses talents culinaires nous ont permis de profiter un maximum de nos vacances.' Cordialement Laurent XXXX
Then Matina who came from far Australia sailed Croatia this year: comments:Hello Servanne
The trip was fabulous and all went very well thank you. Damir in Biograd was of great assistance and he helped us very much with everything. They were very friendly and very helpful. I would recommend the Passion group again. The transfer from Dubrovnik to Biograd was about 6 hours...something you can advise other customers. Thanks for the follow up and I will be sending you some photos shortly.
Kind regards Matina
We do inform our customers that it takes 6 hours to drive from Dubrovnik to Beograd.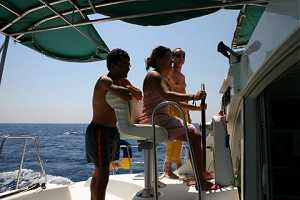 While Genevieve was sailing Turkey on this good BENETEAU 50, I was enjoying with Gérard this catamaran LAGOON 380 at 10 knots of speed and more; night cruises, active sailing in the Dodecanese between Patmos, Gaidaro, Lipsoi...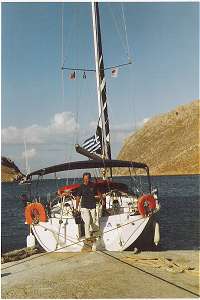 While Jacques was sailing Croatia, I was enjoying Guy 's company and his family from Belgium. Here at Pedhi, Symi at the end of the jetty.
in August, courageous Dominique decided to cross the Aegean sea in a week. Unfortunately the previous crew broke the engine of his Oceanis 461. We supplied at once a Atoll in replacement . They recovered the Oceanis at Amorgos, Cyclades in the middle of the trip.
By the way, this friendly message from Frederic in Croatia;
Nous avons été en tous points satisfait de notre croisière à SPLIT que ce soit au niveau du bateau, de l'accueil et de l'assistance technique. Continuez comme cela !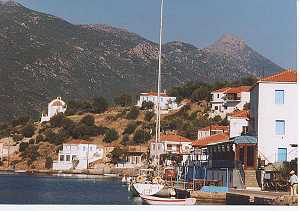 Didier wanted to sail the Peloponese in August; as it was a quite severe heat wave we sailed down to the islands to get the fresh air.
Pierre was a lucky guy when he picked up a special offer Paros - Athens: 1830 Euro all inclusive on a new 44' in full season. 'En ce qui concerne la qualité de service de votre prestation, je n'ai pas grand chose à dire sinon qu'elle fut excellente. Les circonstances ont fait que je me suis retrouvé à la barre d'un 44 pieds pendant une semaine pour la somme de 1830 Euro tout compris ( Location + annexe + assurance + nettoyage ) , il me semble que le rapport qualité prix est vraiment très compétitif. Une remarque tout de même sur le fait que le moteur d'annexe ne soit pas compris dans le tarif de base et surtout que son coût soit prohibitif. Cordialement'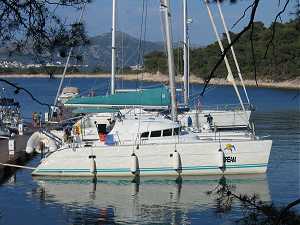 I do not forget all our friends that sailed Corsica, Sardinia, Italy, Croatia, the French Riviera, the Caribbean ; I cannot add all of them because they are hundreds and I do not have news from all of them, but I don't forget our friend Rolf that were our best client with one 32', one 40', one 46' and one 47' in the season. The Ramon family from Spain with 2 sail boats ; not easy to sail with 13 guests on board! We met in Rhodes and I must say that the ambiance , the kindness of 'Max- Relax' the skipper, made of this cruise a success.
Then fall came, the best season as we say here.
Once again, Gauthier sailed Greece in the Peloponese on this fantastic DUFOUR 40. A strong gale of 24 hours pushed us into a car and we visited most of the south Peloponese. A fantastic voyage in medieval cities, monasteries, high mountains... terrific! This is the advantage to have a PASSION SAILING skipper/guide on board; he knows more than boat management.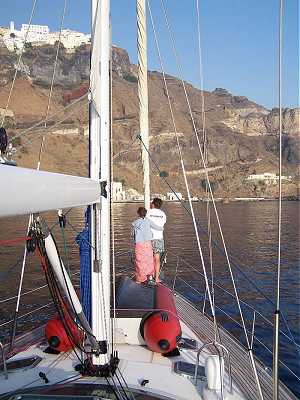 End of October, Fred came back in the Dodecanese on a good DUFOUR 385 ; the weather was so good that we could swim every day and we hardly saw any cloud.
The last trip of the year was end of november with Jim and Eloise from Oregon. We started from Athens on a good Bavaria 34 down the Saronic gulf at a average speed of 7 knts. Not bad for a 34'. The wind was quite strong but the sky blue. Then came a gale wile we were on the totally protected island of Poros (that was on purpose of course) . The skipper became driver of a rented car (25 Euros) to the Peloponese and the amphitheater of Epidaurus. The storm passed, we sailed well to the protected waters around Methana, Palea Epidavros and the bucolic bay on Angistri. The wind has been strong a few days in the week but the choice of sailing the Saronic gulf at this time of the year was a good one.
'Jim and Eloise had different plans.....sailing in the Saronic sea south of Athens in a chartered sailing yacht. We also hired a skipper, Yann, who was also a wonderful guide and friend. Both of us had tours of being at the helm, but Jim got the heavy duty just as we left Athens . We had 25 knot wind and seas over 4 feet high! 3 hours of guiding the boat heeled over about 20 degrees and being bounced around by the seas was enough to get him really tired! The sailing was a wonderful experience, and we think we shall try that again.'
About 400 people that sailed with PASSION this year fulfilled an adventure that many people dream of. The marine adventure is our daily life; we have the experience to offer you the most appropriate yacht in the best area with a passionate responsible skipper/guide.
Thank you for your confidence and see you again ... in Greece, or in Turkey, Croatia, Corsica, Italy, Sardinia, French Riviera, the Caribbean..?
____________________________________________